Back to my new "being authentic " in my makes from now on, I decided just a few days before
Christmas to make some cullottes when Sasha on Kollaboro released this pattern.
Well I was very inspired and immediately printed out the pattern. Then I spent absolutely ages going through my fabric stash. I found at this point that I have at least one piece of fabric I do not wish to wear. I tried several colours because although the original pattern was made by Sasha for the Chrismas party season, I did not wish to make something for that but rather for spring. I ended up with a linen type fabric which has a lovely texture. Its a pretty thick fabric though so I was not sure how this was going to work out. Having said that the cullottes made by Sasha were apparently in quite a stiff brocadey sort of fabric which makes them quite stiff by the looks of the pictures. My linen is similar to canvas and before washing was very stiff but has soften a bit after being washed, dried and ironed. It looks more green in the photos below than it actually is. In real life its kind of an olive/khaki but a green khaki rather than a brown khaki if you know what I mean.
I actually printed Sashas's pattern three times and attempted to put it together but each time the test square was the wrong size. This is a tester pattern so Sasha did say it could have problems. Well for me on three different printers - two at home and one at work - I could not get the test square the right size. Having spent some time now fiddling around reprinting and sticking together at the third attempt I also realised the pattern is layered which means I am still going to have to trace all or part of it even after I have solved the printing problems so I scrapped the idea and moved onto other projects. I did not want to risk making something that might be the wrong size and I am not good enough yet at making stuff to know by measuring if it is going to definitely fit me so better not to make it than ruin my fabric.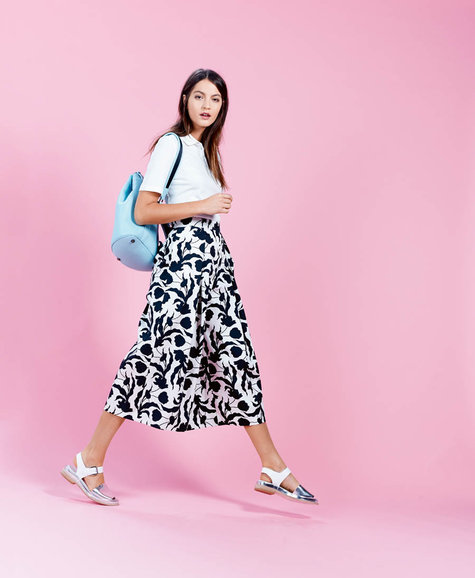 04/2015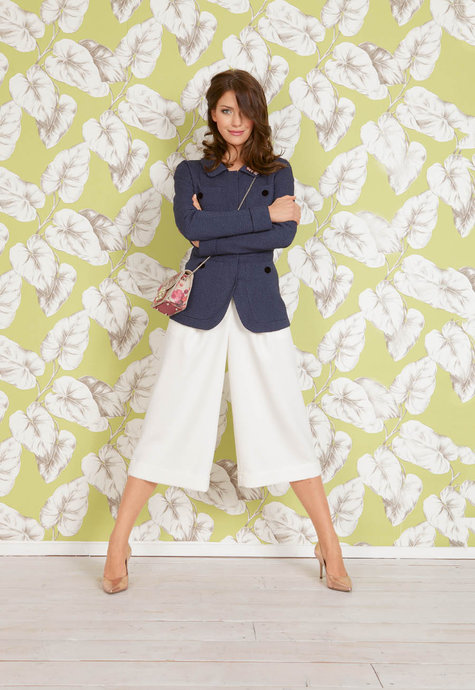 03/2015
Then I was going through my Burda magazines looking for something, which I do occassionally either when needing inspiration or more likely because I remember an item I want to wear and cannot locate it so I need to search them.
I am sure there must be a better way. I hoped I could search using the website but it does not always work. You get peoples projects when searching at burdastyle.com and the burdastyle.co.uk site is even worse and although I do use burdastyle.de my german is rarely good enough for me to search it effectively so I tend to spend ages physically searching the old magazines I own. Well I found two versions of cullottes I already have in 04/2015 and 03/2015. These are the sketches: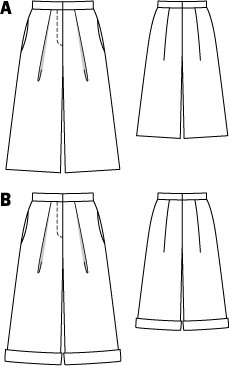 04/2015
The 04/2015 seem to be a bit narrower and possibly shorter. They have an option for turn-ups. I do not at least on this occassion want turn-ups. The second pair though, from 03/2015, seem more like the Sasha cullottes so I decided to go with these.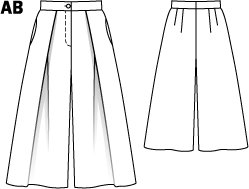 03/2015
I traced the pattern much quicker than I usually do, so I must be getting used to this now. I cut it out immediately since my fabric has now been sitting around gathering dust and in the way for about 2 months. I used an iron-on interfacing on the waistband and interfaced the pocket pieces.
Then I began to sew. The directions in the magazine are to tack the fly. Stupid me did it on the wrong side ( or actually on the right side when it should have been on the wrong side of the fabric!). As it happens it will not matter just yet because I am going to sew the pleats and darts first:
I did the front pleats first. They are very easy assuming you have added the markings. I did not use carbon for this since I seem to have lost mine so instead just used pins and old fashioned tailors chalk to mark then sewed them up.
Then the back darts:
As you can see this fabric creases very easily which is going to be a pain I can see already.
I pressed all the seams and then sewed the side seams. At this point I decided to leave out the pockets and add leg pockets instead. Partly this is down to laziness but mostly it is because the fabric is very bulky and by missing out the hip pockets I can lose a bit of excess width around my hip area. Also whilst checking they will actually be about the right size - I wrapped them as well as possible around me to see if they will fit before I go any further with the making process because I hate seam ripping and re-stitching.
The "Authentic" bit hit me then, because I am not really an officey kind of girl and am more into activity or sports kind of clothing but with a bit of old style Goth, Punk or Hippy thrown into the mix. Being authentic with my clothing makes means I am meant to be making something I will actually like to wear. I am unlikely to wear a smart pair of cullottes more than just the once to show them off after making them and my aim now is to make things I will want to wear again and again not just because it is a nice garment to make. So I want to kind of millitary these cullottes up a bit and leg pockets seems the easiest way. I also love cropped trousers so this could make me a real winning garment. Now I need to draft or find an army style expanding pocket pattern to use for my leg pockets.
04/2010 118
I already own 04/2010 which I bought from burdastyle.co.uk when trying to find:
NR. 129-042010-DL
I think this must be the mens pattern though because the womens pattern is the 118 pattern above for the style in the right of the picture. The picture of style 118 just shows the woman and not the whole familly. I assume the kids pants are also in this magazine. I will have to buy this magazine if I come accross it in fact because it seems to have lots of millitary type patterns in it and I am still collecting any copies old or new of burda style magazine that I fancy. So anyway, the plan now is to print out style 118 above and use the pocket pattern on the legs of these cullottes. I will let you know how it goes in my next post.
TO BE CONTINUED:
Thanks for reading feel free to leave a comment if you have the time
see you again soon,
Bracken
heabv