I was originally at this address:https://brackencrafts.wordpress.com/ but I simply could not get to grips with Wordpress. I am sure its a great blogging site but right now I do not really want to spend the time learning how to use it so have started again here.
I want to SEW SEW SEW!!!
I have had a blog before with Blogger and although things have changed quite a bit since then I suspect I am going to find it pretty similar to use to what it was a few years ago. Hopefully that means I can spend more time actually blogging rather than spending ages and ages learning what to do to get a blog post up at all. Sorry Wordpress but I am simply just too busy to learn to use you right now. Maybe later this will change though.
The floor is now complete. I blogged about the floor and how it was impossible to start my "Make 100 garments" project till it was done. Well I did not have a room in which to sew then. Now I do. I have a table to work on and my machines are out the boxes and I have started two projects. The first is a boxy orange top made from a remnant I picked up in Ikea in their bargain basement section. I think probably it was cut off one of their display curtains or sheets. I think it is a cotton polyester mix but I am not sure.
It has almost a rayon type of feel to it and is a lightweight fabric with some shimmer. This project was pretty quick and intended just to get me into sewing again. Really it has been sometime since I did any serious sewing.
This top is also made from a very cheap remnant so it did not really matter if it went wrong! I should have taken more photos but stupidly did not think to do so. I will get better at blogging I expect as time goes by. Anyway: The pattern is based on this Burda style pattern: http://www.burdastyle.com/pattern_store/patterns/lace-floral-top-052013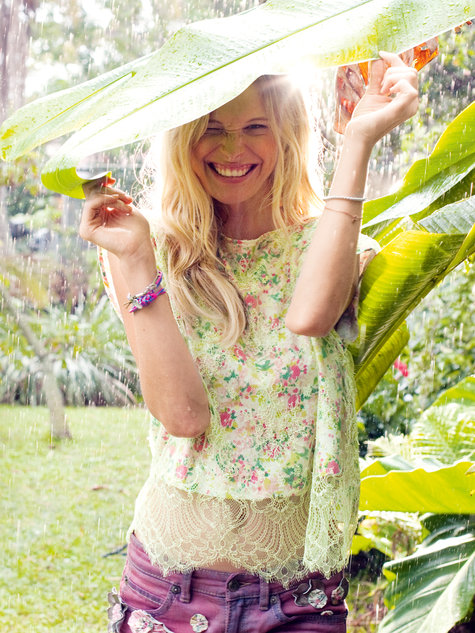 I followed the directions for the Burda Style pattern except that my version is only 50cm long after hemming due to lack of fabric. Possibly a bit short for me but OK over a vest or a slip! I only used one layer of fabric, not two like the burda version, which I then edged with lace. The lace is doubled over to bind the neck since it stuck up kind of funny when it was a single layer so I sewed it over like a binding. The sleeves are cut from rectangles and measured:
Please excuse my sketch. The dimensions are correct and you need to cut two sleeve pieces, both on the fold of the fabric.The 25cm long edge when opened out is 50cm and thats the bit you join onto the shoulders of the top. I sewed the side seam of the top and the sleeve seams together. I could have tapered the sleeves in slightly more since they are quite wide but I am happy with this top as a first project to get me going and the orange fabric is very cheery on a grey rainy day such as today is in the UK. The lace was from my stash and is a stretch lace like you would use for lingerie and to be honest it may well have been better to use a non-stretch lace. I think it was from Weston Fabrics off Ebay. I sewed one row of lace on the neck and sleeves with the neck being used as a binding and two rows of lace around the bottom edge. However, it does give the bottom edge a kind of gathered effect which I do like although it was not originally planned that way. The lace was available and I did not want to spend much on this project. I did not serge or zigzag the inside seams which is probably a mistake since the fabric does fray. Anyway I am reasonably happy with it. I have worn it a couple of times now. It looks especially good with jeans. Considering it cost virtually nothing and was very quick and easy to make I consider it a success. If I made it again I think I would make it slightly longer but I only had a small remnant of fabric so that was not possible. I suppose I could have added a bit on the bottom like a double hem rather than add sleeves. It is my first real project in ages and my first garment of 100 garments so at least I have begun my sewing journey at last.
Thank you for visiting and I hope you come back soon.
Bracken