I just had to make something to go with these leopard print boots, I have owned them I believe for around 12 years and only worn once or maybe twice.
I had some difficulty deciding exactly what to make but in the end settled on this dress from Burda. I actually traced this pattern back in the spring when I got a bit obsessd with raglan tops. I never got round to actually making anything with it until now. Its the: Long Sleeve Fitted Ruched Dress 02/2015
#124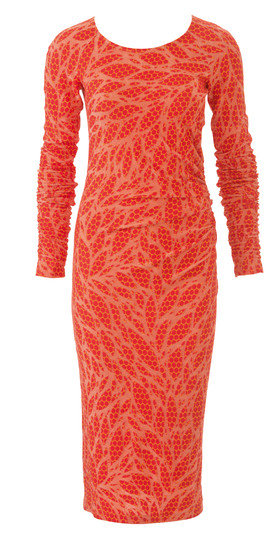 The fabric is of unknown fibre but synthetic with lots of lycra. I think it came from one of my ebay buying binges. Its actually very thick fabric so was quite difficult to get the side-gathering to work. I did attempt to do the side gathers as the pattern says to but in the end I just pleated them. I think it works OK.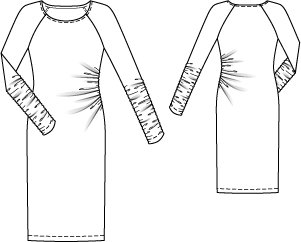 I also added a stand up neck band like a Tshirt neck edge to the neck edge rather than just turning it over.
Not the best picture but this is my Tshirt neck edge.
It was all made on the overlocker except for the twin needle stiching of the hems. As it turns out I really love this dress. Its surprisingly warm. When these photos were taken it was freezing! Unfortunately because of the position of my house you can see a shadow accross the bottom of the dress. Sorry about that. Its all one fabric and is just leopard spots! I will try to take a better picture later this week.
I do not usually go in for below the knee skirts. I only wear short above the knee of very long as in maxi-length skirts but this time I decided not to shorten this dress and to try it out just as it was designed to be.
I have this idea I am unable to walk properly in below the knee tight skirts but as it turns out because the fabric is so very stretchy I can walk fine. Probably this misconception goes back to my "gothic" Morticia style dresses I wore in the early 1980s.
There was no stretch cotton then and even stretch denim was very expensive. The very first stretch jeans occurred in 1980 with lycra stretch dancewear at the end of the '70s as far as I can remember.
Stretch fabrics (as in lycra) appeared about the same time as the film "Grease" came out but they were not available in denim until a few years later.
It was also all very expensive and it was not until about 1983 that I convinced my Mum to allow me to have stretch jeans.
I remember the end of the 70s when I was punk wearing clothing so tight and unyealding I used to get what looked like rope burn behind my knees.
Unless you lived then you really would not understand the discomfort we had to go through for fashion!
Anyway I have until now avoided this skirt length due to my memories of wearing unstretchy, unwalkable Morticia Addams style skirts.
But this dress I love. Sadly you cannot really see my shoes here but I am wearing them!


Thanks for reading and for visiting my blog
Bracken