After making my
So Sew Easy dress
I had some more velvet left so rather than stash it I decided to make a slip dress from the rest of it. After all, the #TMS unstashed challenge is supposed to be about not stashing the fabric you bought at Christmas. I bought this just after Christmas with the idea of making something to go out on New Years Eve and made sequin tops instead so best to use it all up because my fabric stash is already large enough to get me through an entire year of sewing without adding anything to it!
This dress is from the November 2016 issue of Burda Magazine and is dress 113. For some reason I particularly like this issue of Burda which is weird because I did not buy it when it came out but bought it off ebay just after Christmas when I bought my fabric as part of an ebay buying binge.
I have cut out several items from this issue and it looks to be a favourite since I also traced lots of patterns ready to cut so its an epic mag for some reason despite my originally not liking anything in this issue!
This is a very wearable dress either on it's own or with a T-shirt.
I left out the back frill because I think it will be much more wearable for every-day life without with the frill included and I want to wear this.
Its a bit too party-ish with the frill. The facings are black stretch crepe. Its all overlocked and twin needle hemmed. I found the Burda instructions a complete muddle. Everything was in the wrong order and I would make it completely differently next time and I expect to make several of these in different fabrics because its lovely. Its meant to be cut on the cross but I did not do that because it would look a bit weird being velvet but the next one I would probably do it on the cross.
Unfortunately, I found that my fluorescent yellow top does not photograph well at all in these pictures and to be honest we have a small frosting of snow today. It does not show on our patio but the grass is slightly frosted like a Christmas card here and there, so its pretty cold outside, and I was not going to spend any longer freezing for pictures so these will have to do for now.
I think its a lovely dress which can be worn with trainers and a bike jacket or to go out on the town. What I did not realise until I had made this was there is a fault in the fabric:
I have yet to decide if I will shorten it but it does seem a shame because its a risk. Shortening things can look great but I am rarely sure until I do it and some lovely dresses and skirts have been ruined when I have done this so now I am a bit in a quandary. If I had realised I would have designed my cutting to avoid it but I never noticed until I had finished hemming the dress.
So, to shorten? Or not to shorten?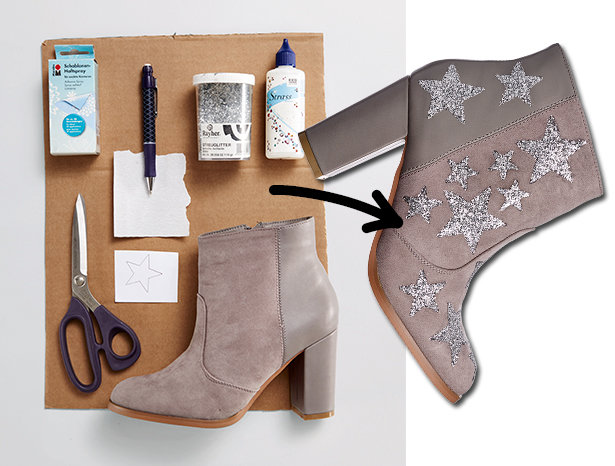 And here are my upcycled boots. I put glitter stars on these using just glitter glue. They are inspired by this Burda blog post.
http://www.burdastyle.com/blog/diy-glitter-shoes
Though as usual I did it slightly differently. I did not add extra glitter but just painted the stars with Pound Shop glitter glue which I bought on a whim ages ago.
They go rather well with my dress don't you think?
Thanks for visiting my blog,
Bracken