I finally made this pattern. I was considering which top to make first when I wrote this post
Great Minds.......
anyway I went with the Arkivestry top in the end although I have changed the pattern slightly.
Until yesterday when doing Me-Made-May 2016
#MMMay16, 08/05/16, Day 8
I had not blogged about this top, despite finishing it several months ago, since so far I have not quite found the way to wear this anywhere but inside the house since its somewhat OTT and did not really go with anything but now I think I have found something that works much better than jeans with it. You can see what its like with my turquoise jeans here and even with normal blue denim( below) it is still a bit wrong looking.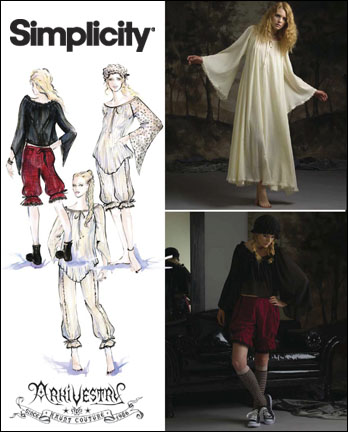 To make this, I used a lovely silky-satin fabric that is gold shot with black. The wrong side is plain black too and will show when the top is worn since the sleeves have a kind of mediaeval shape that is longer at the back. The pattern says to gather the neck and secure permanently with braid. Then you attach a ribbon which you tie to close the neck. But instead of this I want an option to have this top as an off-the-shoulder Bardot type of neck so I used a black satin ribbon as a casing on the inside. I still did the neck opening and attached a ribbon to tie it shut since I think it gives a nice look to the neckline and is a bit more interesting that just a normal gypsy type top. My ribbon ties are also black double sided satin ribbon.
The hem and sleeve edges as well as the neck edge have a serged rolled hem. The patterns says to do a lettuce hem but I could not get that to work so just did the rolled hem. To be honest this was a huge learning curve for me as well. My serger instruction booklet which came with the machine was really useless. I simply could not understand how to make the machine do a lettuce hem.
Luckily, I also got a DVD with my serger, which I never got round to playing until I needed to do this and I have to say it was well worth the watch. I find it a real challenge to even thread the serger and it usually takes me several attempts to get it to sew again. Now I have watched this I find you are meant to thread from right to left and move the needles up or down depending on what you are doing and I suspect it will make threading it much easier.
Anyway back to the top, I rolled the hems and overlocked the inside seams but sewed all seams with a normal machine too since this fabric frays so I want it to look neat. Also the sleeves inside shows at the back so I need to make sure it looks good inside as well.
I used a narrow elastic to gather the neck and secured it by hand at each end.
And this is how it looks when worn:
Would obviously look a great deal better without the exercise top underneath as well!
If I made it again I might try View C instead which is slightly shorter and a much less glittery fabric because I like the top, it is just the fabric is hard to wear in my normal every day life.
This top which is View B is long enough to wear with a belt which could be good with leggings but I would also like the shorter version for summer with skirts or jeans. I am also going to miss out the frilled edge and just have a seam with elastic because its a bit frilly for my taste. I like the off-on shoulder options though and seemed to wear it mostly off just one shoulder yesterday when it was a very hot day.
This is what happened when I needed a new outfit for Me-Made May16
I think it works well with this dungaree skirt but I still have some reservations and wonder if this lovely top should really belong in the bedroom. I think if I was to make some matching shorts like these which are free from Collette Patterns I would have a lovely baby doll nightie/pyjamas. I also have plenty more of the fabric so this could be my next project. There are two bloomer patterns with the top pattern too so I may just have to make them all. That would serve for winter night clothes as well as summer.
Thanks for reading and hope to see you again soon;
Bracken