Feeling a bit brave and reckless I bought several vintage magazines off ebay:
I bought two old (vintage?) german magazines. One a Neue Mode 07.1992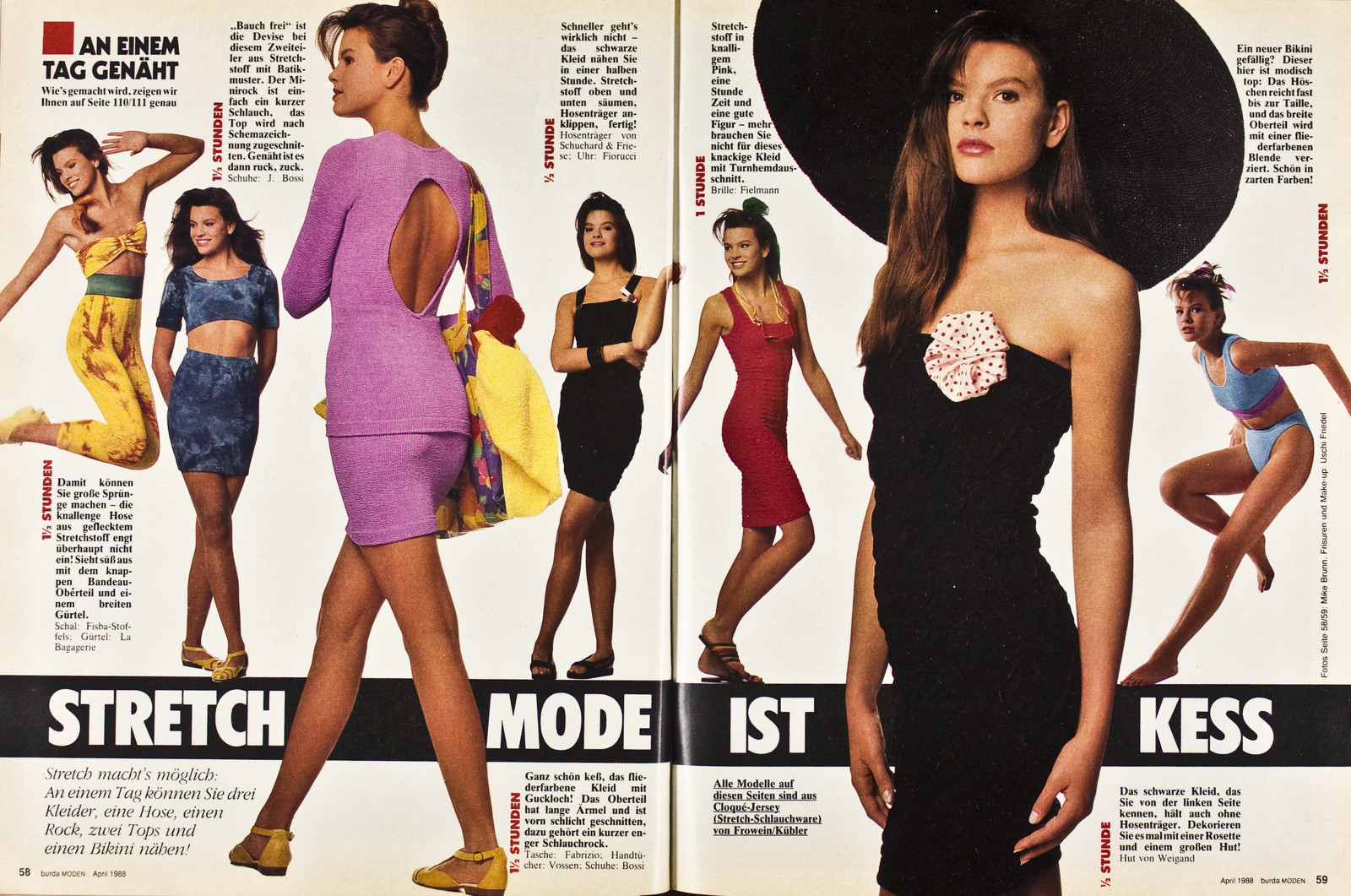 Which shows how to make clothing from the then popular tube fabric which was polyester and was textured due to being gathered up with lycra. I cannot tell you what the text says or what that fabric was called but it was everywhere in the 90s and early noughties. It was the bodycon fabric of the 90s and I loved it. I still own a couple of dresses made from it which come out every now and then but are looking a bit tired and faded now. Everything was made from it though, swimwear, shorts, leggings, skirts, tops, you name it..................
I also bought a Burda Moden 04.1988:
This has similar designs. Again I cannot translate. I really like the simplicity of these designs though!
My German is not very good but just from the photos and sketches and my knowledge of the clothing I owned then I should be able to copy most of these designs. Also I never find that Burda gives good directions anyway and so far I usually just end up winging it and working out for my-self what they are talking about. I suppose it is down to it being translated from German into English and everyone knows no language truly translates into any other language. There are always expressions and words that simply do not exist or have even a similar meaning in a different language.
Anyway I am hoping my sewing knowledge, small though it may be, will mean I can work out how to make these patterns despite my lack of languages. I do not have this tubular fabric in my stash but I do have quite alot of the currently available textured polyester and lycra fabric which would work. The designs will need a bit of tweeking but since many actually cut the tube on, for example, centre back like the pink top here: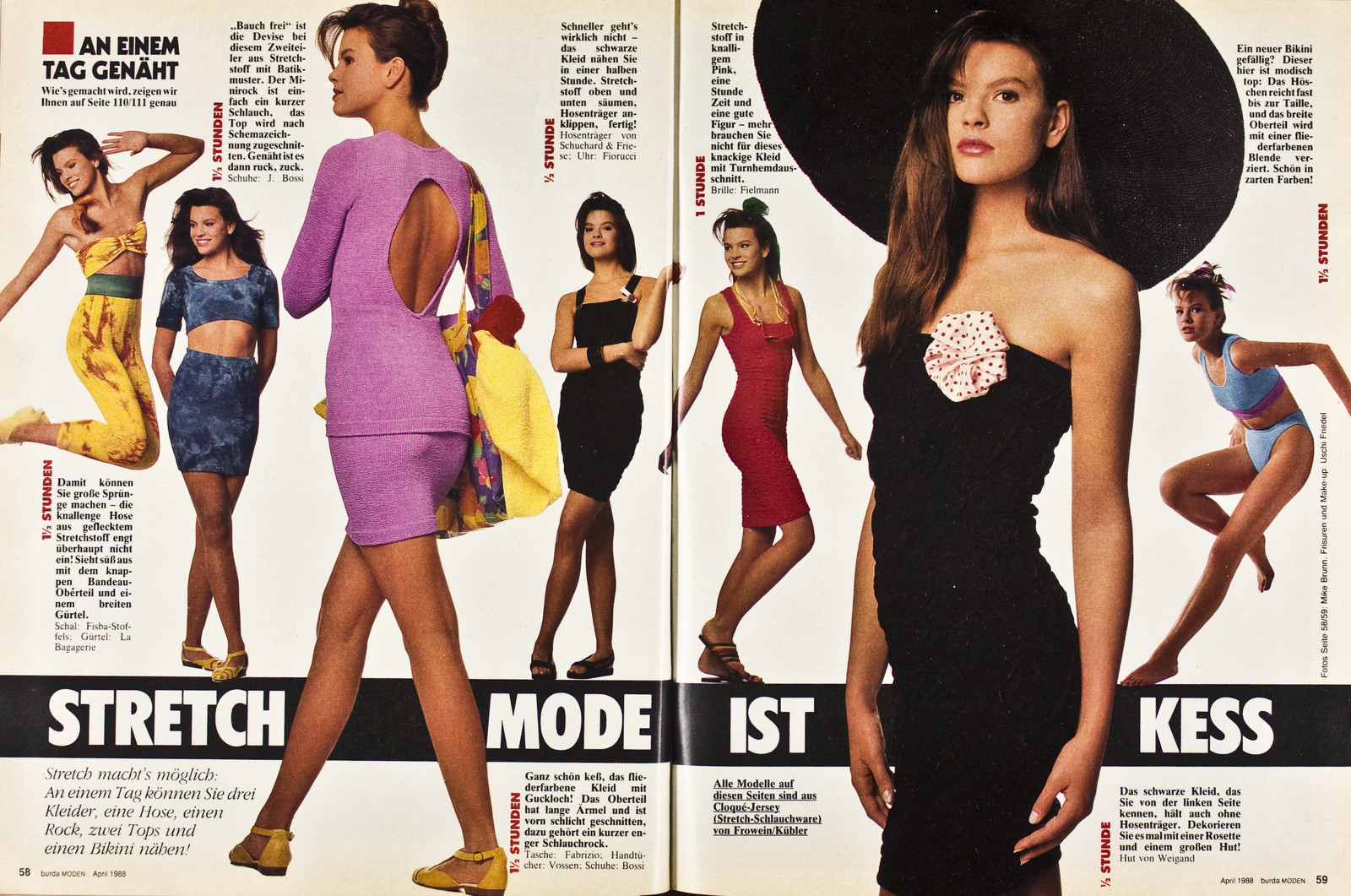 they are do-able I think. I know you can buy tubular fabric but my aim really is to add a bit of interest to my wardrobe with the fabrics from my stash and not to buy more fabric. I love a lot of these type of designs since they are so easy to wear in summer.
Has anyone else had any experience making any of these kind of patterns either now or when they were current? I am grateful for any advice or tips you may have.
I have also now bought a La Mia Boutique magazine. This one is in Italian and I have no understanding at all of Italian whereas I do at least know a small amount of german! My Italian in fact consists of being able to order coffe with milk and sugar for my parents when we went on holiday when I was bout 8 years old so it is hardly going to help me understad any of the sewing directions. The patterns tho are fab! I paid 81p for this ( UK money) or 1 Euro. With delivery it was only 4 Euro. Honestly I do wonder about companies like Newstand. I can buy a magazine from Germany and it costs less to get it sent to me than if I buy a magazine from Newstand in the UK.

Of course with all of these lovely vintage magazines I still need to hone my sewing to a level where I can actually work out what exactly I am doing because I am finding that right now my skill level is such that I am struggling with lots of english "easy" patterns. Ah well. At least I can dream of making some of this stuff.
Thanks for reading
Bracken